There is a hushed warmth about the coldest season of the year that seems almost rebellious. As the morning grass gets frostier and our tea gets hotter, we can guarantee a desperate longing for comfort and stability within the upcoming months. Whether or not we grasp what we are looking for, we still turn to music in an attempt to thaw out our frozen hearts and feel human again.
Blue Hour, the second full-length from Los-Angeles based duo Ruby Haunt, is an album that does exactly what you need it to. Melting the icy remnants of the past, vocalist Wyatt Innins and instrumentalist Victor Pakpour shed a light on the wonders of dissociation and the significance of breaking routine. With bright bell synth leads, whispering vocals, and muffled percussion, the frigid wind of Blue Hour whisks you away into the ethereal beauty of twilight.
Ruby Haunt presents "Sucker" as an introduction, a softer track beginning with one strong instrumental layer and ending with the fade out of many. Repetition and reiteration imply a hypnotic essence about the piece, a quality that many other songs on the record achieve as well. "Darling" is a strong kicker, a contrasting bass line highlighting the instrument's both sweet and somber tone.
A fairly lengthened record at about 30 minutes long, "Sorry, Sabrina" comes in as one of the shorter tracks. The guitar is lustful but apologetic, the piano cries along with it. "A Quiet Evening" continues the trend of slow tempos and full synth expansions. The lyrics follow you down a lonely road, singing "Nothing better than leaving…"
"Non Sense" begins clear and concise at first, one of the tracks on Blue Hour that you might move your head along to, becoming slightly loose and ambient as it persists. "Sanctuary" enters as calmly as the rest, a forgiving and welcoming ballad. "Demon" is a quiet lullaby that goes back to the theme of recurring lyrics, "Come on give into it / Quit your lying / Quit your crying / Quit your shit." Very honest, very short, and very to the point.
The record's title track, "Blue Hour", is second to last and is the only instrumental on the album. As if to say thank you for listening, the sampled conversation behind the heavy-hearted keys provides a haunting transition into the record's final display of lush, fuzzy chords.
"It Will Happen Next Time Around" establishes a distorted synth melody, layering it with rhythmic bass and atmospheric arrangements. One could faintly compare Innin's deep and sluggish vocals to that of Neil Halstead's, one of the voices behind shoegaze icon Slowdive. With some of the record's best lyricism and composition, the track bears a solid farewell to Blue Hour's feathery landscape.
Ruby Haunt displays both lo-fi energy and traces of dream-pop in Blue Hour, a combination that sets the mood very suitably. The band experiments with the feeling of detachment from an entirely fresh perspective, allowing there to be room for so much potential. The album was released only a moment ago in late September, but Blue Hour has already labeled itself as the modern-day slowcore serenade.
You can buy or listen to Blue Hour on Bandcamp or Stream on Spotify.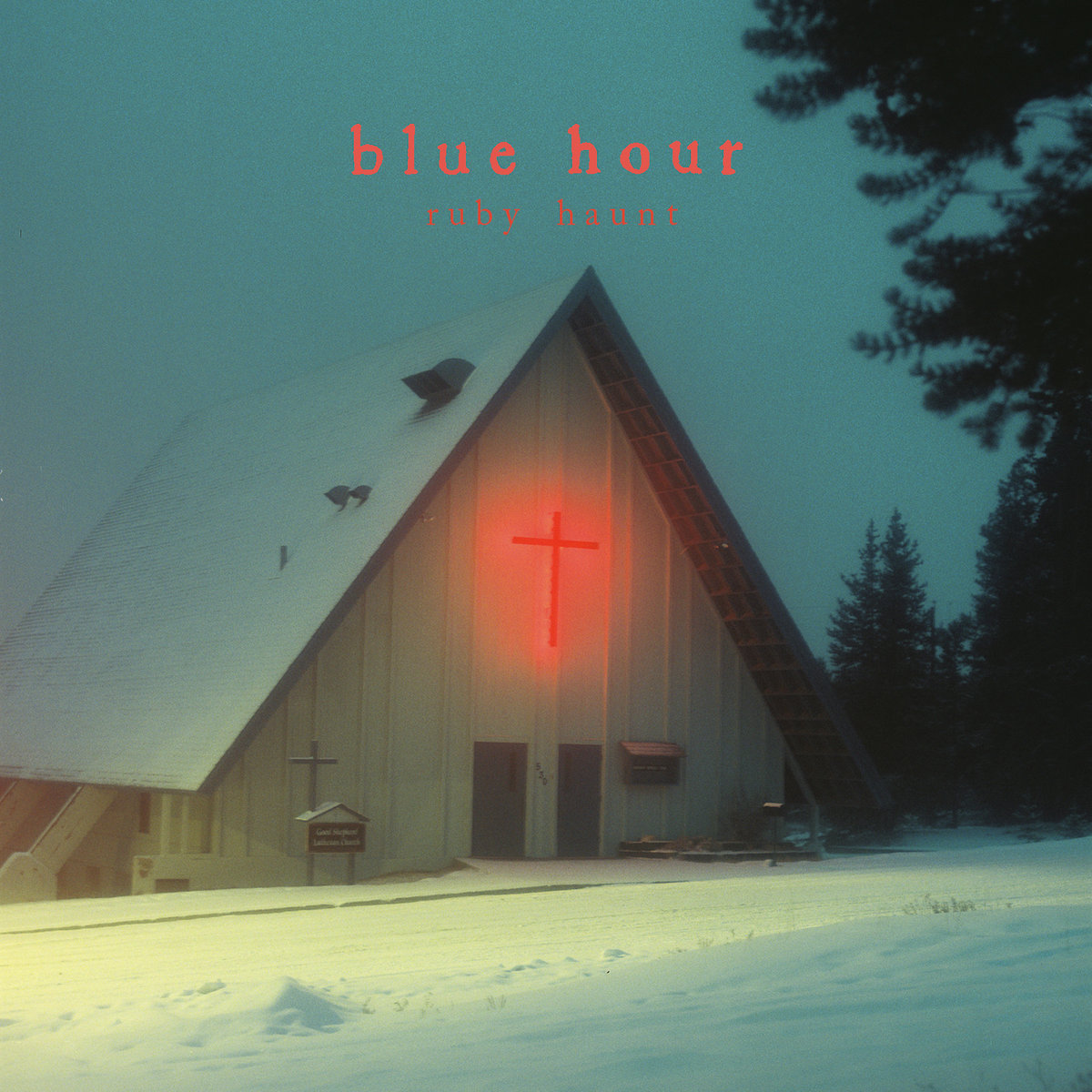 Keep up with Ruby Haunt:
Facebook
Instagram
Lucky for those on the West Coast, Ruby Haunt will soon be hitting the road. You can view the dates and purchase tickets below:
oct 30 – San Diego – The Casbah
oct 31 – Tustin – Marty's on Newport
nov 1 – Los Angeles – Resident (SOLD OUT)
nov 2 – San Francisco – Neck of the Woods
nov 4 – Portland – The Doug Fir
nov 5 – Seattle – Sunset Tavern (SOLD OUT)
nov 6 – Vancouver – Foxes Cabaret
All media is respectfully credited to and owned by Ruby Haunt.
Featured Photo: Off of Ruby Haunt's Bandcamp